The Artists

Ana Rita Pereira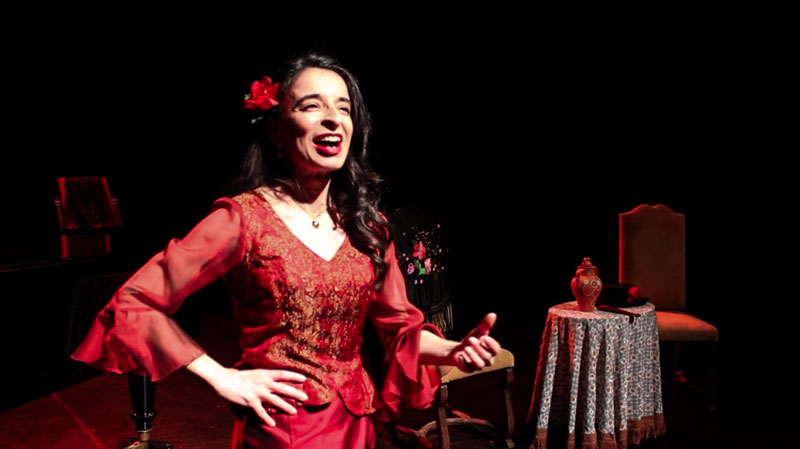 Born in Brussels it is after a first stage experience at nine years old that she started learning the piano in Lisbon and afterwards discovered Spanish music following a period in Andalusia between 1985 and 1988.

She pursued her piano studies in Paris in 1990 and began her harpsichord and harmony studies. Later she took up singing and simultaneously, in the framework of the continuous training, joined the direction of the Aubervilliers choir directed by Catherine Simonpiétri. She obtained her high school diploma in 1997; and also the 1st prize Prix de Musique de Chambre with Serge Cyferstein for the Lied and the Melody, Nicolas Burton-Page and Françoise Defour for ancient music in 2000 and a 1st prize Prix de chant in 2001.

Later at Gennecilliersand at Meudon she went on to obtain respectively a 2nd prize Prix de Formation musicale in 2004 and a 2nd Prix d'Histoire de la Musique in 2007. She perfect and furthers her repertoire with singer Laura Sarti, Professor at the Guidhall School in London; at the Lyrical Atelier of Provence with Ignacio Encinas, Antonio Selva and Sylvain Souret. She works with Stéphane Spira and David Abramovitz, Head Singers/Chefs de Chant. Her voice sometimes flexible, warm and powerful allows her to approach very wide repertoires: from ancient music all in halftone and retained, to baroque music which demands grace and lightness, in order to deliver power within the large lyrical repertoire and to become inflamed with the works of Spanish masters such as De Falla and Granados. Her interpretations brought her praise from the critic: «Une voix généreuse, bouleversante de justesse, d'un velours clair-obscur aux nuances subtiles : la chanteuse Ana-Rita Pereira a littéralement envouté le interprétations XVIIIème public par ses d'œuvres siècle offrant du un panorama de l'Europe baroque… de l'exacerbation des sentiments dans la cantate « Pianti, sospiri » de Vivaldi à la sobriété poignante de la cantate « Ich habe genug » de Bach… elle a emmené le public dans l'univers de Bach, Clérambault, Haendel et Vivaldi comme on emmène quelqu'un dans un rêve… ». Le Telegramme.

After 1995, she performed either in concert as a soloist, or joining different formations: L'Ensemble Vocal Michel Piquemal, le Chœur Parisien d'Opéra, le Chœur Français d'Opéra, l'Ensemble Vocal Sequenza 9.3, l'Ensemble Vocal Mignonne, répertoire baroque; le Trio Dryade, mélodies espagnoles et françaises ; l'Académie des Tuileries, répertoire baroque. She created the L'Ensemble Allegro Voce in 2004, with the soprano soprano coloratura Emmanuelle Mansard. The duo would performs accompanied by: Ann-Dominique Merlet at the organ or Martine Roche at the harpsichord on the 17th to the 20th century music programs. As a soloist she performed with Eric Lebrun at the organ for the major works of the holy music repertoire. And in concert with J.C. Casadesus at the Damnation of Faust by Berlioz ; with Michel Piquemal in King David by Honegger; with Ann-Sophie Von Otter and Bengt Forsberg in Ständchen by Schubert for the Vè Victoires of Classical Music. She took part in the recording of 4 Records published under the Naxos and BMG labels. She would later interpret the roles of Sextus in Julius Cesar by Handel; Vagaus in Judith Triomphante by Vivaldi ; Belinda in Didon et Enée by Purcell ; Amélite in Zoroastre by J.P. Rameau ; Vénus in Euridice by J. Péri ; Chérubin in Les Noces de Figaro by Mozart ; Stéphano dans Roméo et Juliette de Gounod ; Urbain dans Les Huguenots de Meyerbeer Malika dans le duo de Lakmé de L. Delibes ; Rosario dans Goyescas de E. Granados ; Semiramide dans Semiramide de Rossini ; Carmen dans Carmen de Bizet. She worked with the directors Yaël Bacry, Benoit Rivillon, Anne Barbier and is preparing an upcoming show on the scenes of Opera and Operetta with Jean-Louis Bourdon. Currently she is performing the Désir d'España : Voyage lyrique avec Théophile Gautier, on the topic of the Spanish influence in Melodie Française. Personalities and big European capitals accompanied her career. She gained the cultural richness, the dynamism and openness to the world which give her performances a fully vivid dimension, decisively turned towards a coming together and sharing motion. Since 2000 she's been developing her career between the desire to perfect and artistic and teaching initiatives destined to a wide audiences, children and the less favored.

Stéphane Spira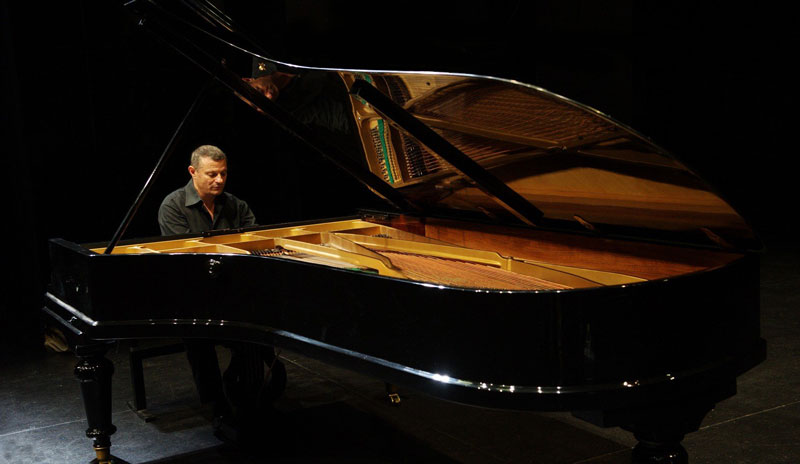 Stéphane Spira, pianist, begins his musical studies the violin at the age of 6 years. But the piano irresistibly attracts him and reveals himself to his true calling. Enters the Normal School of Music in Paris, where he studied with Serge Petitgirard. During a contest, Pierre Petit watch it and proposes it to get into the classes Germaine Mounier. Studying there for 4 years, after which obtains the Diploma Execution IENM Paris. In 1992, he was awarded the European Claude Kahn Competition, and in 1996 received the Diploma of Honor at the International Maria Canals Competition in Barcelona. Later the teachings of Brigitte Engerer allow Stéphane Spira enrich your repertoire. From then gives numerous concerts in France and abroad, earning his interpretations of Beethoven, Chopin, Liszt, Schumann and rave reviews. Stéphane Spira associates a solo career to another chamber music and musician scene. Creates the spectacle "Tangolied" with baritone José Luis Barreto. This show, a symbiosis of two cultures, Latin America and Europe, received the distinction of "5th Centenary of the Americas Meeting of Worlds 2 - 1492-1992» National Committee chaired by the Ministry of Foreign Affairs. "Tangolied" continuous to be presented internationally. With Svetlana Lifar, mezzo-soprano, and the actor Xavier Beja created the show 'Pushkin' shown in several theaters - Grand Theatre in Tours, Opera de Lille, Epee de Bois in Paris, ...). Stéphane Spira was chief corner for 10 years in the center of Paris Conservatory in the class of Martine Surais. Is in residence at Theatre Bligny since September 2011.

Aurelia Vidal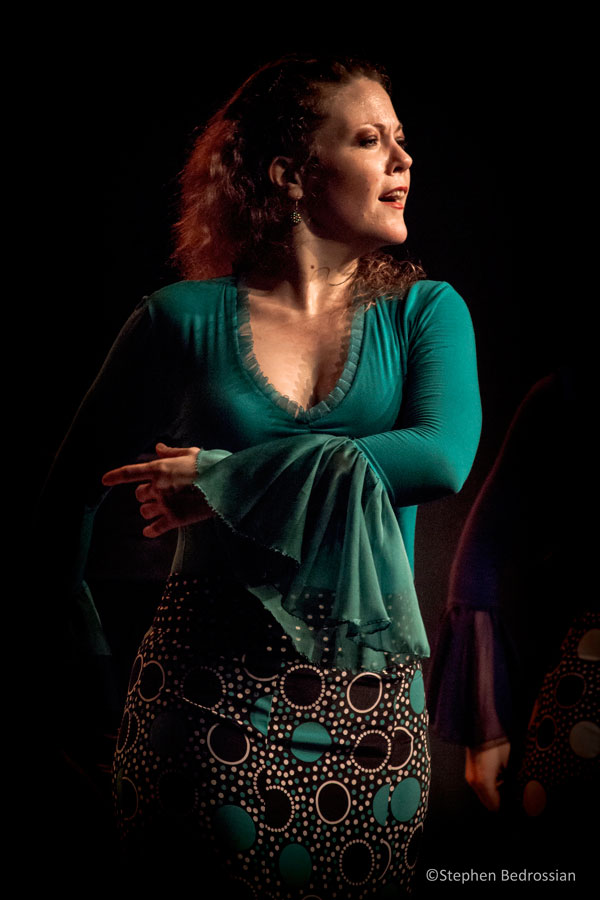 Choreographer, dancer. A 'fond' the Flemish, Spanish family Aurelia Vidal was first formed by M. Jimenez and then by great masters of the Flemish dance, such as Angelita Gomez, La China, El Grilo, Maria del Mar Moreno, Javier Latorre or by browsing between Jerez de la Frontera, Andalusia city cradle of Flemish art, and Paris. She applies his art with passion in many different and unique creations: from Baroque to the eastern sets, through contemporary, jazz, Indian music, to the street theater and equestrian cabaret. But, above all, is the search for authenticity in the interpretation of singing and guitar "pure flamenco" that characterizes it. Of great generosity on the scene, she transports the audience to the highest point of your emotions. Their dance is defined by fluid, by the grace of his movements, and a "zapateo" changing. She has performed in numerous festivals (Mont de Marsan, Aurillac ...) as well as great Parisian stage - IMA, Café de la Danse, Théâtre du Trianon, Dejazet, among others.

João Luiz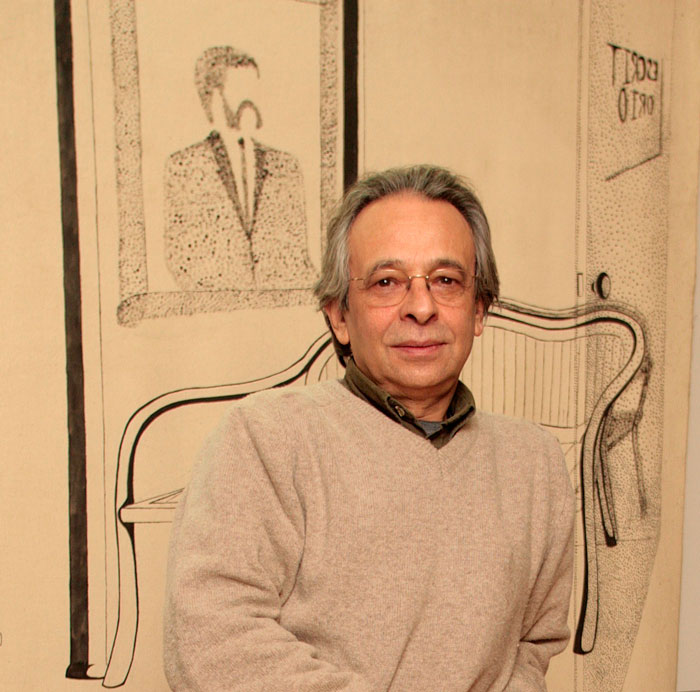 João Luiz was born in Porto in 1944. Theatre director and artistic director of the Pé de Vento theatre company, he started his theatre career in 1964 at T.E.P. as an actor, starting his theatre director career as an assistant to Ernesto de Sousa in the play O Gebo e a Sombra by Raul Brandão. Between 1966 and 1975 he lived in Brussels and continued his activity performing for the Portuguese community of Belgium, having taken part in the creation of two amateur theatre groups. From 1968 onwards he held a position at Théâtre-Poème.

Upon returning to Portugal, he taught Movement and Drama for two terms: 1975/76 and 76/77 in the School for Superior Studies of Penafiel. In 1978, together with Maria João Reynaud and Manuel António Pina, he founded the Professional Theatre Company Pé de Vento. As artistic director of this theatre company has already directed over 60 plays, some of these having featured in national and international gatherings and festivals, both in Portugal and abroad. Also in 1978, he was part of the likeminded group of professionals who founded CPTIJ (the Portuguese Centre of Theatre for Young Audiences), having headed the organization a few times. In this capacity, he was a member of the Theatre Council of the Portuguese Ministry of Culture in 1984/85 when Dr. Coimbra Martins was Minister. On the international scene he represented Portugal in several world symposia of ASSITEJ (Association International de Théâtre pour l'Enfance et la Jeunesse) having been part of the Executive Secretariat of this association during 1989 and again in 1993. In this capacity he was present in several international symposia and festivals.

After the official opening of the Vilarinha Municipal Theatre, which took place in October 1996, he assumed the artistic direction of Pé de Vento together with the position of programming director of this Theatre. Among others, it is worth noting the position he held in the executive team responsible for Shows and Events in the framework of the World Fair of 1998, EXPO 98, in Lisbon, where he was régisseur in charge of mobile stages.